you're superstars for joining in. here's some info that we hope helps your day.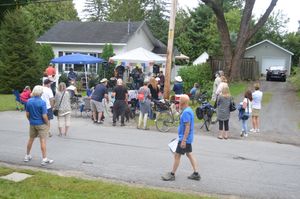 when: saturday, sept. 9, 2023 (rain date sept. 10)  
time: 12-+ pm (time differs per porch - check sched) + special closing event at TBD.
where: see this google map for all of the porch locations.
what should we bring?   
your friends, family and wee ones. dogs, too.
portable chair or blanket.
food and drinks. 
bag to carry your garbage out with.
refillable water bottle.
sunscreen and hat. 
air guitar.
where can we eat? you will find a number of great restaurant options on main street. ask your porch hosts for a recommendation!  
where can we see who is playing when and where? facebook.com/hudsonporchfest and https://hudsonporchfest.ca/lineup-2022 for all general updates about porchfest. please like our page.  
please help us promote hudson porchfest!  like, share and invite your friends to the main facebook event as well as indicate on the event if you are interested or going.  you can also send out the details via email or other social networks.
#s & @s:
#hudsonporchfest #balconfêtehudson #balconfetehudson #porchfest  
instagram and facebook: @hudsonporchfest
can i play in hudson porchfest one day? just sign up and you're in.
we hope that you'll love this day as much as we do. thanks for being a porch patron!